INNOVATION
SERVICE DESIGN
& CREATIVE FACILITATION
SOLVE the right problem - INVOLVE THE USERS!

Gain user insight
- through empathy and "manytyping"
We work from a Human Centered approach - applying methods from AppliedTheatre and AppliedImprov as a design tool for working with and from prototypes.
Ideation is based on research and hands-on work with prototypes.
I co-authored an article on the new term "Manytyping" - "The seamless blending of multiple service prototyping methods within one run-through" with Adam Lawerence in the Service Design Networks Touchpoint Journal on Experience Prototyping - October 2019.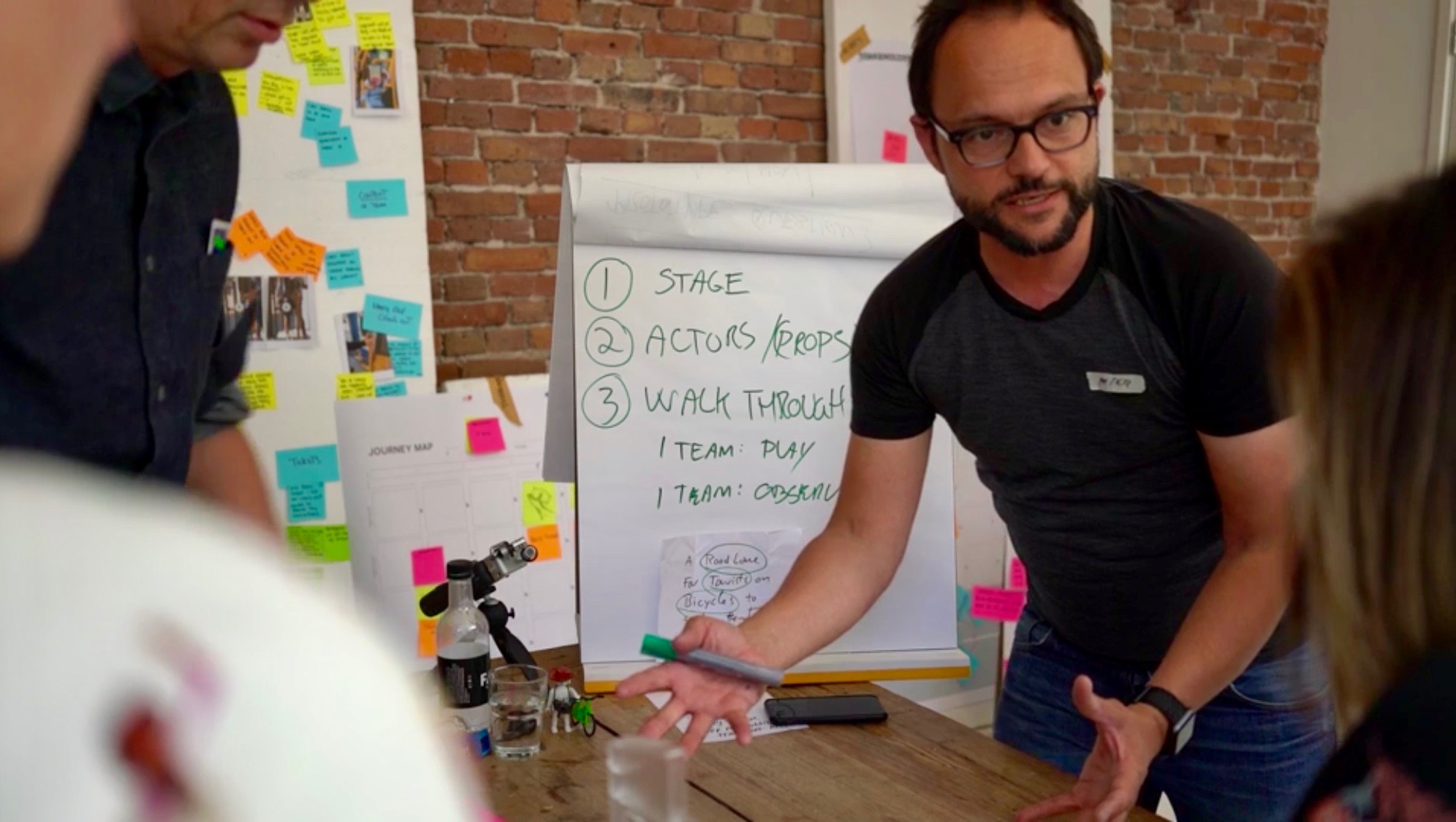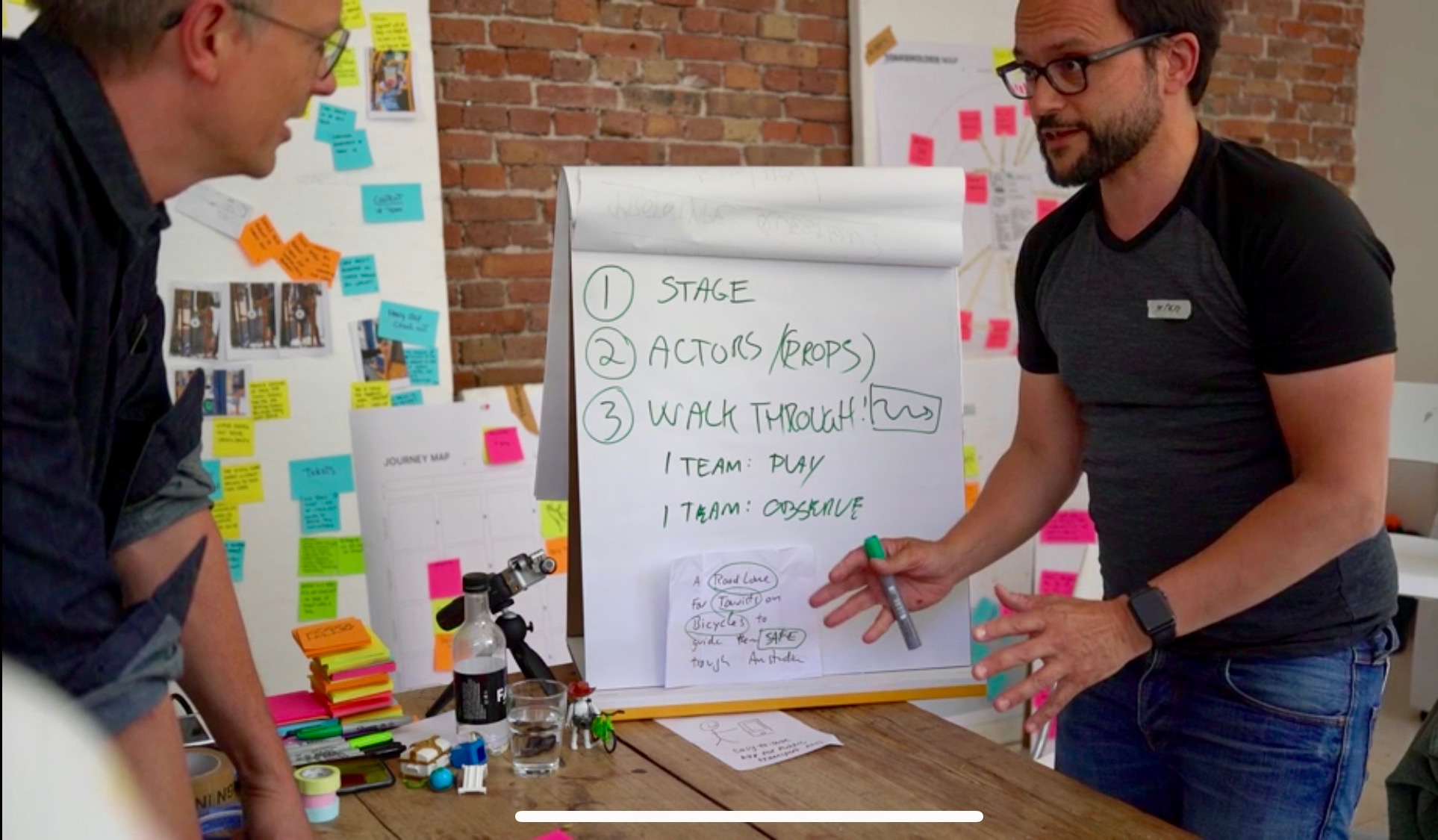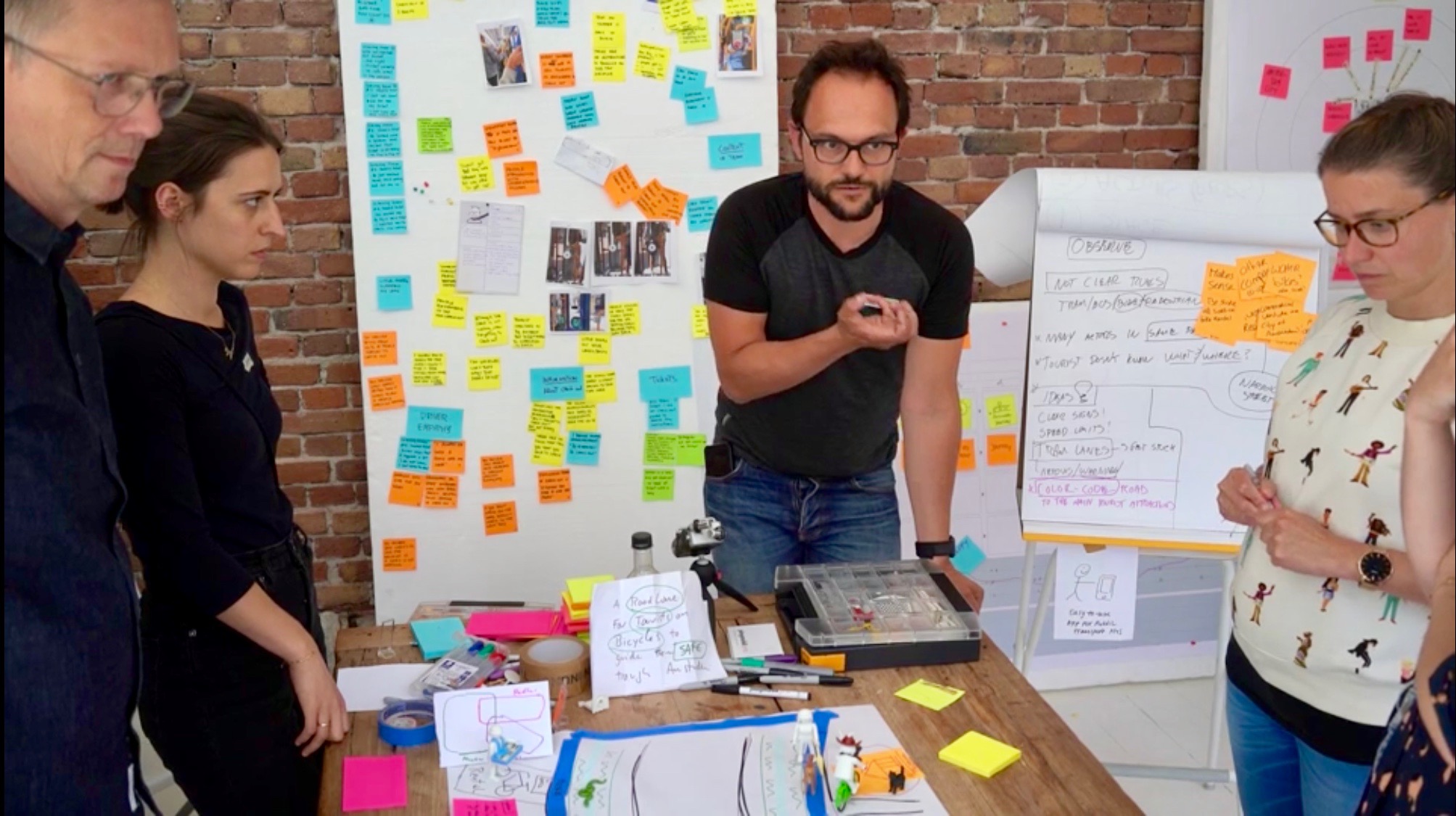 By applying creative processes and methods, such as "investigative rehearsal" and "desktop walkthrough", using objects, LEGO®, Playmobil Pro and other materials for rapid prototyping koncepts with the clients and/or end-users, your team will gain a more in-depth, rich understanding of the user.
Stop talking - start acting based on research - by prototyping!
You will be able to create better solutions based on research and interactive user involvement.
Serious Fun
Through gamification and creative facilitation-techniques we provide a great learning experience, that is not only fun, but also gives serious in-depth user insights.
Facilitation of workshops can be challenging - especially if you are part of the team - that's why we offer our expertise as external consultants to take care of that part. We also offer train-the-trainer workshops for facilitators, working with exploring and solving actual difficult facilitation-cases.
Target groups
Basically anyone working directly with users / humans in an organization

Facilitators

Agile coaches

Scrum masters

Consultants

Service Designers

Managers
Short take-away video-interview after 3 days open space co-creation in Oslo early 2019, with a group of international service designers, researchers and facilitators on the topic:
"How can we who work with methodologies from the intersection between Service Design and Applied Improv / (applied theatre) make these methodologies merge even more"?
Applied arts in innovation? - why, how, what?
INNOACTORs consultants have completed the intensive applied-art Innovation-specialization - these are some of the skills needed to facilitate a complex innovationprocess as a consultant with an artistic background.
PHD RESEARCH CONCLUDES:
POOR LEADERSHIP CAN BE CHANGED BY ARTISTIC METHODS
Poor leadership is highly prevalent and associated with destructive processes in the workplace, including stress related ill health. Yet, the applied methods to improve leadership practices are rarely grounded in scientific research. However - this project is.
CONCLUSIONS
A transformative effect of a new, art-based leadership concept on the leaders and transferred beneficial effect on their co-workers was demonstrated.

The findings are sustained and more pronounced at the long-term follow-up.

The positive results for psychological, behavioural and biological outcomes are consistent and strengthen the findings.
"The arts value matrix" creates an overview of the different levels of the effect, arts-based interventions can have. I met professor Schiuma at a seminar on "applied arts".
Innoactors interventions mainly belongs to the "Learning and Development" level - however in long-term interventions we have created change at the level of individual and organizational "Transformation" (At the bank Nykredit and the IT department of the central hospital in Copenhagen - Rigshospitalet.)
Schiumas research proves, that there is a strong need for the aestetic dimension in the management of the postmodern, agile organization - since its the employees emotional engagement and communication that builds long lasting organizations.
THE CASES BELOW HERE ARE FROM LONG TERM INTERVENTIONS (6 months+) (In Danish)
Langvarige (+6 måneders) innovationsprocesser
- To eksempler på "kunstneriske interventioner i organisationer" - baseret på teori-u
1. innovationSprojekt for nykredit
"Projektet har givet et stort engagement hos medarbejderne, der kan mærkes i det daglige."
Direktør Per Damm, Nykredit
OPGAVEN

Hør medarbejdernes egne værdier og hæv dem til forandringer, der går til Nykredits topledelse.
RESULTATER - KVANTITATIVE
Projektet har skabt en helt ny arbejdsstandard for kundemøder

Tilfredshedsundersøgelse er bedre

Topledelsen har fået indsigt i personalets værdier

Personaletrivsel = bedre bundlinie, da kunderne kan mærke forskellen

Trivsel = bedre omtale af arbejdspladsen = flere kunder fastholdes
RESULTATER - KVALITATIVE
Personalet fik sat ord på udfordringer

De har fået et nyt ord for deres samarbejde i det daglige: "kammeratskab"

Gruppen er blevet meget samlet efter projektet

Leder-medarbejder relationen er bedre

Medarbejderne er blevet hørt ifht deres værdier

Alle har følt sig inddraget i afklaring af værdier
Som det fremgår af interviewet og effektmålingen, er jeg utrolig tilfreds med såvel processen som resultatet.
Jeg har oplevet Peters og mit samarbejde som fremragende, og medvirkende til det meget tilfredsstillende resultat.
Vi nåede hovedmålet, som var at få materiale videre til topledelsen.
Delmålet var at lave en buttom-up værdi analyse af personalets værdier og det er lykkedes til fulde!Direktør Per Damm, Nykredit
2. INNOVATIONSPROJEKT FOR Rigshospitalet
"Kompetence-landkortet" (C)
Et procesværktøj til kompetenceafklaring og forberedelse til MUS - efter en fusionsproces.
Opgaven
IT-afdelingen ønsker at udvikle en metode, hvorigennem medarbejdere og ledere i samarbejde får synliggjort deres individuelle faglige og personlige kompetencer
Afklaring omkring egne kompetencer

Bedre samarbejde

Gensidig forståelse dels mellem medarbejdere

Mindre silo-tænkning

Skabe rum for italesættelse af tvivl og usikkerhed i en forandringsproces

Fastholdelse af gode medarbejdere
RESULTATER
Kompetencelandkortet (c)
En generisk workshop på 3 timer. Anvendes til kompetenceafklaring for alle 100 medarbejdere

Redskabet anvendes som forberedelse til MUS samtalen

Kreative metoder inspireret af teater, designtænkning og anerkendende kommunikation

Forumteater-event på konference for alle medarbejdere

Kollegial vidensdeling og personlig afklaringsproces